What was once in the deep is now in
The Shallows
Blake Lively is Nancy, a girl who is surfing alone on a secluded beach when she is attacked by a great white shark and stranded just a short distance from shore. Though she is only 200 yards from her survival, getting there proves the ultimate contest of wills.
The taut thriller, is directed by spanish Jaume Collet-Serra, best known for his work in films such as Unknown (2011), Non-Stop (2014) and Run All Night (2015), all of them starring Academy Award Nominee, Liam Neeson.  The Shallows is set to hit theaters June 24, 2016.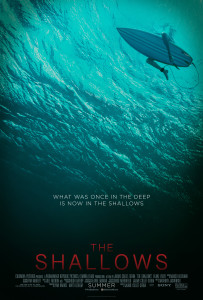 Directed by: Jaume Collet-Serra
Written by: Anthony Jaswinski
Produced by: Lynn Harris, Matti Leshem
Executive Producers: Doug Merrifield, Jaume Collet-Serra
Cast: Blake Lively, Óscar Jaenada, Sedona Legge