The hugely popular comedy duo Key & Peele  (Keegan-Michael Key and Jordan Peele), star in New Line Cinema's action comedy "Keanu"
The duo play Clarence and Rell, cousins who live in the city but are far from streetwise. Peele plays Rell, an introverted stoner artist, whose precious cat, Keanu, has become his favorite model. Meanwhile Key is his chipper, all-too-eager-to-please cousin, Clarence. When Rell's beloved kitten, Keanu, is catnapped, the hopelessly straight-laced pair must impersonate ruthless killers in order to infiltrate a street gang and retrieve the purloined feline. But the incredibly adorable kitten becomes so coveted that the fight over his custody creates a gang war, forcing our two unwitting heroes to take the law into their own hands.
Peter Atencio known for his work in Key & Peele and The Last Man on Earth, directed the film from a script written by Jordan Peele and Alex Rubens.  The movie is set to be released April, 29.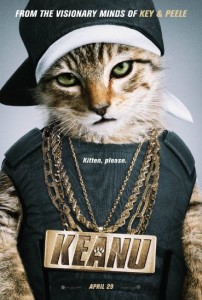 Directed by Peter Atencio 
Written by: Jordan Peele  & Alex Rubens
Cast:
Keegan-Michael Key 
Jordan Peele
Will Forte 
Nia Long 
Luis Guzmán 
Jason Mitchell
Rob Huebel
Method Man
Tiffany Haddish
Keanu (Warner Bros. Pictures)